Dakhil Board Challenge is necessary when a student needs to recheck the examination paper of the Dakhil Examination. If you want Dakhil Board Challenge and Result 2023, this post is for you. In this post, I will show the Dakhil Board Challenge Application process and the Result of 2023.
Dakhil Board Challenge 2023
Student of Madrasah Education got their Dakhil Examination result in 2023. It's an exciting moment for the Dakhil examinee. But Unfortunately, every student is not happy yet with their result. Some of the Dakhil examinees do not get their proper or wished results.
Dakhil student intends a result. As we know, the Madrasah Board authority publishes Dakhil Result, and all Dakhil result has a status pass or fail. Also, the result contains a Grade point that counts by GPA.
Suppose a student wishes A+ Grade in the English subject of the Dakhil examination, but they got only an A grade even though they did very well in the examination and are worthy of getting an A+ grade. In that case, they can apply for the Dakhil Board challenge.
Also, if anyone falls in the Dakhil Result 2023, you can apply for the challenge. But you must be confident you can change your result by challenging the board. It is known as Dakhil Rescrutiny or Dakhil Khata Challenge. Let's see the eligibility of Dakhil Rescrutiny or Board Challenge.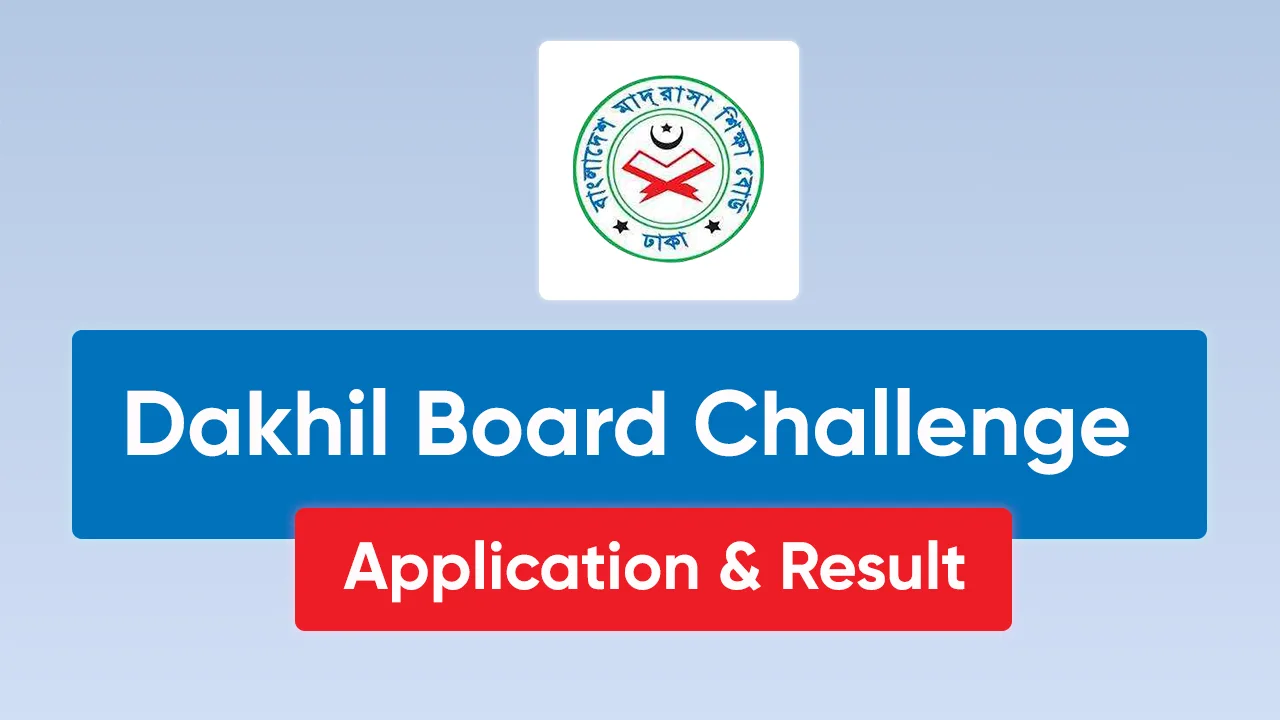 Eligibility of Dakhil Board Challenge:
Unfortunately, you got failed the Dakhil Examination Result 2023
You have not got your expected Dakhil Result
Follow the process if you think you are eligible for the Board Challenge and have enough confidence to change results.
Dakhil Board Challenge Application Process
Here I am showing you the Dakhil board challenge process 2023. Before proceeding, you need to know the requirements of the application process. This application process is in an SMS format. So you need a Bangladeshi Mobile Operator Teletalk Sim card to complete the Dakhil rescrutiny application. This application will cost you, and you must have enough credit on your mobile. Let's start the Dakhil Rescrutiny process in 2023.
Dakhil Board Challenge Application SMS Methods:
Application Start Date: 29 July 2023
Application End Date: 4 August 2023
First Step
"RSC<space>First Three Letter of Board Name<space>Roll No<Space>Subject Code" and send to 16222
For Madrasah Board: RSC<space>Mad<space>15345<space>123 and send to 16222
Second Step
In reply, you will get an SMS that will let you know how much application money will be charged and return a PIN by SMS. If you agree to pay TK. 125 Per Paper (Per subject charge BDT 250 TK), then Go to the message option and type
"RSC<space>YES<space>PIN number<space>Contact Number" and send to 16222
Example: "RSC<space>YES<space>654321<space> 01710000000" and send it to 16222. That subject has two papers (e.g., Bangla and English) under the one-subject code. Bangla 101 and English 107 will charge the application fee of TK. 250
You can apply for more than one subject in an SMS, and subject codes are divided by the comma (,).
If you complete the step correctly, you will get a confirmation message of your application. Please keep your contact number, and in the future, and will notify you of your contact number.
Dakhil Board Challenge Result 2023
Dakhil Board Challenge Result 2023 will be published by the Bangladesh Madrasah Board authority after reviewing all the applicant's exam papers. The student who applied for Dakhil Rescrutiny or Board Challenge 2023 will be notified after completing Khata recheck. As we know, the Bangladesh Madrasah Board authority checks their exam paper very carefully. So every applicant's result will not change.
See your Dakhil Board Challenge Result 2023 for Madrasah Education Board:
The student who can get numbers or change passing statuses can change their result. The board challenge Result sheet contains a pdf file with the Roll number and changed the result. Download Dakhil Rescrutiny results below and search your Roll Number in the list. If you find your roll number, you are lucky, and your result is changed. But if you do not see your roll number in the result sheet, your result is unchanged.
If you have any questions regarding this application and result, comment below.