Kachua is an Upazila (Sub-District) of Chandpur District. Kachua is located in the Chandpur District of the Chittagong Division in Bangladesh. Its postal code is 3630.
I have shared the Kachua postal code and general information in this article. Let's see the postcode of the most common and popular area in Kachua.
Postcodes of popular places in the Kachua Upazila:
Kachua Postcode: 3630
Pak Shrirampur Postcode: 3631
Rahima Nagar Postcode: 3632
Shachar postal Postcode: 3633
You can see the postcode of all divisions, districts, upazilas, and any region of Bangladesh from the Bangladesh Postal Code. From the table below, let's know the postcode and post office address of all areas in Kachua Upazila.
Kachua Postal Code
Kachua Postal Codes and Post Offices:
| Upazila | Post Office | Postal Code |
| --- | --- | --- |
| Kachua | Kachua | 3630 |
| Kachua | Pak Shrirampur | 3631 |
| Kachua | Rahima Nagar | 3632 |
| Kachua | Shachar | 3633 |
About Kachua
Kachua is a Sub District of Chandpur District, and Chandpur District is an administrative region of the Chittagong Division in the southeastern part of Bangladesh.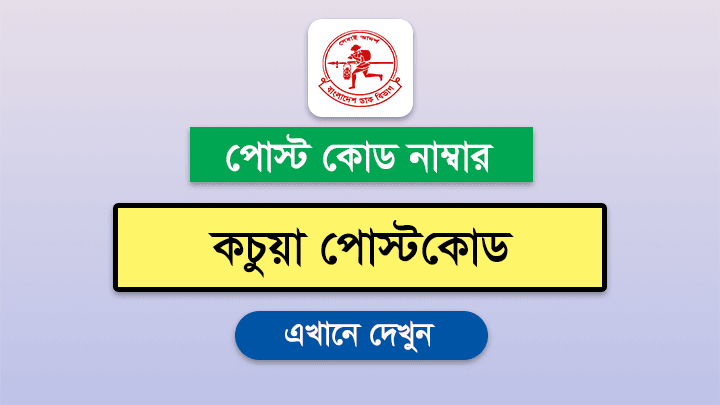 General information on Kachua:
Area name: Kachua
Postal Code: 3630
Total Area: 238 Square Kilometer
District Name: Chandpur District
Division: Chittagong
Country: Bangladesh
The below infographic contains all the general information about Kachua:
Kachua consists of 12 unions. Unions are as follows:
 Sachar Union Parishad
 Pathair Union Parishad
 Bitara Union Parishad
 Palakhal Model Union Parishad
 Sahdevpur (West) Union Parishad
 Kachua (North) Union Parishad
Kachua (South) Union Parishad
Kadla Union Parishad
Kariya Union Parishad
Gohat (North) Union Parishad
Gohat (South) Union Parishad
Ashrafpur Union Parishad
Map of Kachua Upazila: